WELCOME TO THE SHEPNET COMPUTER CENTER FOR SENIORS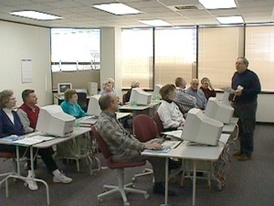 The ShepNet Computer Center for Seniors has offered computer classes for thousands of older adults over the past eighteen years. The ShepNet mission is that of the local sponsor, Shepherd's Center of Greensboro -- "older adults helping older adults pursue independent and active lives of quality."

The Greensboro ShepNet Computer Center for Seniors 50+ is operated by more than 50 dedicated volunteers who are themselves older adults. Through their efforts they hope to build a community of individuals who use computers to make their presence known in the world and to improve the quality of their lives and their community.
Greensboro ShepNet activities are coordinated by Ed Pring (288-2211). Classroom space is provided by the Starmount Presbyterian Church, 3501 W. Market Street. Our classrooms are readily accessible for individuals with special needs. The Shepherd's Center office handles all business transactions.
---
LOCATION

ShepNet has moved to a new home at Starmount Presbyterian Church

.
click on the map for a larger map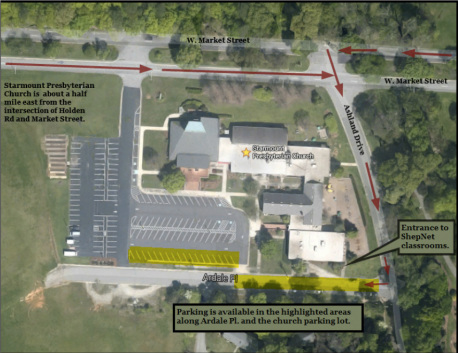 WELCOME NEW VOLUNTEERS
ShepNet volunteers are central to the success of the ShepNet Computer Center for Seniors
.
Volunteers serve as instructors, coaches and in other capacities. Would you like to be a volunteer? Will you volunteer to coach a class? If yes, click
HERE
and complete the form.
A ShepNet volunteer will contact you.